Ratchet Crimping Plier (European Style)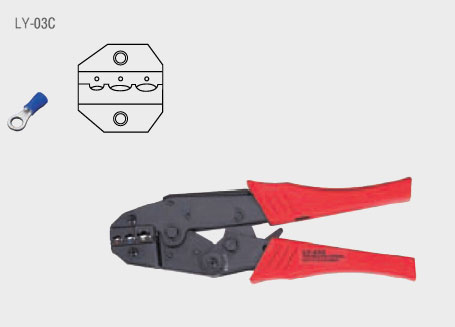 HS-30J / HS-30JC / LY-03C

閳荤嚟he components of the ratchet crimping tools are made of special steel.
閳荤嚉esigned according to human factors engineering, it can save 50%
energy when crimping.
閳荤嚛recise crimping die sets and integral lock with self releasing mechanism
ensure high-quality crimping effect after crimping repeatedly.
閳荤嚄ccurate adjustment before ex works delivery
閳荤嚉ue to best handle grasping position, light and compact structure and
handle design ensure perfect crimping effect.



| | | | |
| --- | --- | --- | --- |
| Tool Specificarions | HS-30J | HS-30JC | LY-03C |
| Capacity | 0.5-6.0 mm2 | 1.0-6.0 mm2 | 1.0-6.0 mm2 |
| AWG | 22-10 AWG | 20-10 AWG | 20-10 AWG |
| Length | 230 mm | 230 mm | 230 mm |
| Weight | 0.6Kg | 0.6Kg | 0.6Kg |
HS-1

Range of Application:
For crimping the terminal of
aviation plug-in

Tool Specificarions

| | |
| --- | --- |
| Capacity | 1.0-2.5 mm2 |
| AWG | 20-14 AWG |
| Length | 230 mm |
| Weight | 0.6Kg |
HS-07FL

Range of Application:
For 0.5-2.5mm2
Flag Type
female receptacles Insulated
Terminals


Tool Specificarions
| | |
| --- | --- |
| Capacity | 0.5-2.5 mm2 |
| AWG | 20-14 AWG |
| Length | 230 mm |
| Weight | 0.6Kg |
HS-03B / HS-03BC

For Non-Insulated tabs and
receptacles

| | | |
| --- | --- | --- |
| Tool Specificarions | HS-03B | HS-03BC |
| Capacity | 1.5-6.0 mm2 | 0.5-6.0 mm2 |
| AWG | 16-10 AWG | |
| Length | 230 mm | 230 mm |
| Weight | 0.6Kg | 0.6Kg |
HS-05FL / HS-FL

Range of Application:
For 4.8-6.3mm2
Flag Type
receptacles


| | | |
| --- | --- | --- |
| Tool Specificarions | HS-05FL | HS-FL |
| Capacity | 4.8-6.3 mm2 | 4.8 mm2 |
| AWG | | |
| Length | 230 mm | 230 mm |
| Weight | 0.6Kg | 0.6Kg |
HS-11

Range of Application:
For Clamp of galvanothermy
film terminal

| | |
| --- | --- |
| Tool Specificarions | |
| Capacity | 4.0 mm2 |
| AWG | 12 AWG |
| Length | 230 mm |
| Weight | 0.6Kg |
HS-12

Range of Application:
For 6-8-10mm2
Terminals

| | |
| --- | --- |
| Tool Specificarions | |
| Capacity | 6-8-10 mm2 |
| AWG | 10-8 AWG |
| Length | 230 mm |
| Weight | 0.6Kg |
HS-101

Range of Application:
For Non-Insulated
Terminals


| | |
| --- | --- |
| Tool Specificarions | |
| Capacity | 1.5-10 mm2 |
| AWG | 16-8 AWG |
| Length | 230 mm |
| Weight | 0.6Kg |
HS-1016

Range of Application:
For Non-Insulated
Terminals

| | |
| --- | --- |
| Tool Specificarions | |
| Capacity | 0.5-16 mm2 |
| AWG | 20-8 AWG |
| Length | 230 mm |
| Weight | 0.6Kg |
HS-10

Range of Application:
For Non-Insulated
Terminals

| | |
| --- | --- |
| Tool Specificarions | |
| Capacity | 1.5-16 mm2 |
| AWG | 16-10 AWG |
| Length | 230 mm |
| Weight | 0.6Kg |
HS-103

Range of Application:
Crimping Cap (for insulated
closed terminals only)

| | |
| --- | --- |
| Tool Specificarions | |
| Capacity | 1, 2, 6 mm2 |
| AWG | |
| Length | 230 mm |
| Weight | 0.6Kg |
HS-06WF2C

Range of Application:
For cable end-sleeves and
Insulated Terminals


| | |
| --- | --- |
| Tool Specificarions | |
| Capacity | 0.5-2.5 mm2 |
| AWG | 20-14 AWG |
| Length | 230 mm |
| Weight | 0.6Kg |
HS-04WF

Range of Application:
For Insulated and Non-
Insulated cable end-sleeves

| | |
| --- | --- |
| Tool Specificarions | |
| Capacity | 1-6.0 mm2 |
| AWG | 20-10 AWG |
| Length | 230 mm |
| Weight | 0.6Kg |
HS-04WFL

Range of Application:
For Insulated and Non-
Insulated cable end-sleeves

| | |
| --- | --- |
| Tool Specificarions | |
| Capacity | 0.5-4.0 mm2 |
| AWG | 20-12 AWG |
| Length | 230 mm |
| Weight | 0.6Kg |
HS-26TW

Range of Application:
For Insulated and Non-
Insulated cable end-sleeves


| | |
| --- | --- |
| Tool Specificarions | |
| Capacity | 2 x 0.5-6.0 mm2 |
| AWG | 2 x 20-10 AWG |
| Length | 230 mm |
| Weight | 0.6Kg |
HS-16GF

Range of Application:
For Non-Insulated
Terminals


| | |
| --- | --- |
| Tool Specificarions | |
| Capacity | 4-16 mm2 |
| AWG | 16-8 AWG |
| Length | 230 mm |
| Weight | 0.6Kg |
HS-625WFL

Range of Application:
For Non-Insulated Terminals
Width:22mm

| | |
| --- | --- |
| Tool Specificarions | |
| Capacity | 6-25 mm2 |
| AWG | 10-4 AWG |
| Length | 230 mm |
| Weight | 0.6Kg |
HS-35WF

Range of Application:
For Insulated and Non-
Insulated cable end-sleeves

| | |
| --- | --- |
| Tool Specificarions | |
| Capacity | 10-35 mm2 |
| AWG | 8-2 AWG |
| Length | 230 mm |
| Weight | 0.6Kg |
HS-02H2

Range of Application:
For coaxial cable

Tool Specificarions

Capacity

0.315路?8.0mm)/0.252路?6.4mm)/0.068路?1.7mm)
HEX & 0.042路?1.0mm)SQ

Connector Types

BNC/TNC,and Mini-UHF

Cable Types

RG59,RG62,BELDEN 8281,50and 75 ohm

Length

230 mm

Weight

0.6Kg

HS-02H

Range of Application:
For Coaxial cable

Tool Specificarions

Capacity

0.315路?8.0mm)/0.252路?6.4mm)/0.068路?1.7mm)
HEX & 0.042路?1.0mm)SQ

Connector Types

BNC/TNC,and Mini-UHF

Cable Types

RG59,RG62,BELDEN 8281,50and 75 ohm

Length

230 mm

Weight

0.6Kg

HS-02H1

Range of Application:
For Coaxial cable

Tool Specificarions

Capacity

0.346路?8.8mm)/0.319路?8.1mm)/
0.256路?6.5mm) HEX

Connector Types

CATV "F"Type

Cable Types

RG59,RG6 VIDEO CABLE

Length

230 mm

Weight

0.6Kg

HS-05H

Range of Application:
For Coaxial cable

| | |
| --- | --- |
| Tool Specificarions | |
| Capacity | 0.178路?4.5mm)/0.255路?6.5mm)/0.278路?br /> (7.0mm)/0.068路?1.7mm)/0.041路?1.0mm) HEX |
| Connector Types | HDTV BNC/TNC Tue 75-ohm |
| Cable Types | Belden 1855A,1865A,1505A,1505F,1694A,1694F,179DT |
| Length | 230 mm |
| Weight | 0.6Kg |
HS-457

Range of Application:
For Coaxial cable


Tool Specificarions

Capacity

0.320路?8.13mm)/0.210路?5.33mm)/
0.185路?4.7mm) HEX

Connector Types

BNC/TNC

Cable Types

RG6,RG58

Length

230 mm

Weight

0.6Kg