HOME

>>

Products

>>

NSX Moulded Case Circuit Breaker
NSX Moulded Case Circuit Breaker
NSX Moulded Case Circuit Breaker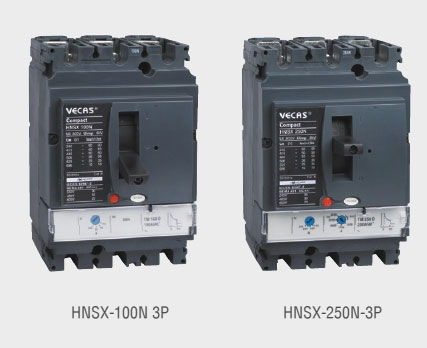 Application

NSX Series moulded case circuit breaker is one of new type breakers which our company adopts international advanced design, manufacture technology to develop. The rated insulating voltage is 950V. Suitable for AC 50Hz (60Hz). Rated
working voltage 690V or below, rated working current is 12.5A to 630A of circuit and used in distributing electric energy. Non-frequent making and breaking in the normal conditions and protecting when circuit and installation are overload,
short circuit and lacking voltage. Rated shell-rack and the breaker whose current is under 400A, take protection effect when mouse cage motor's non-frequent start, breaking off working and protecting form overload, short circuit and lacking voltage. The product conforms to GB14048.2, IEC 60947-2 standards.

Main Technical Specifications

Type

Rated current
of trip (In A)

Pole
number

Rated insulating
voltage (V)

Rated operating
distance (mm)

Arcing-over
distance (mm)

Uitimate short
circuit breakering
capacity (kA)

Short
circuit breaking
capacity (kA)

Operation
performance

ON
OFF

NSX-100D

12.5,5,16,20
25,32,40,50
63,80,100

3P
4P

950
≥90



18

18

1500

8500

NSX-100N

25

25

NSX-100H

70

70

NSX-100L

150

150

NSX-160D

16,20,25,32,
40,50,63,80,
100,125,160

25

25

1000

7000

NSX-160N

35

35

NSX-160H

70

70

NSX-160L

150

150

NSX-250D

160,180,
200,225,
250

0
25

25

1000

7000
NSX-250N

36

36

NSX-250H

70

70

NSX-250L

150

150

NSX-400D

200,225,
250,300,
315,400

25


25


1000

4000

NSX-400N

36

36

NSX-400H

70

70

NSX-400L

150

150

NSX-630D

315,350,
400,500,
600,630

35

35

1000

4000

NSX-630N

45

45

NSX-630H

70

70

NSX-630L

150

150

Working Conditions

Rated current of release(A)

Thermodynamic release(ambient temp+40℃)

Operational current of magnetic
release(A)

1.05In(cold state)inoperation time(h)
1.30In(heat state) operative time(h)

In≥3

≥

< 1

10In±20%

63≥n≥00

≥

< 2

10In±20%

100≥n≥30

≥

< 2

5-10In±20%

Rated current of
release(A)

Thermodynamic release(ambient temp+40℃)

Operational current
of magnetic
release(A)

1.0In(cold state)
operative time(h)

1.20In(heat state)
operative time(h)

1.50In(heat state)
operative time(h)

1.01In (heat state)
operative time(h)

12.5≥n≥00

≥
< 2
≥min
2S<Tp≥0S
12In±20%

| | | | | | | | | | | | |
| --- | --- | --- | --- | --- | --- | --- | --- | --- | --- | --- | --- |
| MM | C | C1 | C2 | C3 | C6 | C7 | C20 | C21 | G | G1 | G4 |
| NSX-100/160/250D/N/H/L | 29 | 76 | 54 | 108 | 43 | 104 | 34 | 86 | 62.5 | 125 | 70 |
| NSX-400/630D/N/H/L | 41.5 | 116 | 92.5 | 184 | 53 | 146 | 46.5 | 126 | 100 | 200 | 113.5 |
| | | | | | | | | | | | |
| --- | --- | --- | --- | --- | --- | --- | --- | --- | --- | --- | --- |
| MM | G5 | H | H1 | H2 | H3 | H4 | H5 | H6 | H7 | K | K4 |
| NSX-100/160/250D/N/H/L | 104 | 80.5 | 161 | 94 | 188 | 160.5 | 321 | 178.5 | 357 | 17.5 | 35 |
| NSX-400/630D/N/H/L | 227 | 127.5 | 255 | 142.5 | 285 | 240 | 480 | 237 | 474 | 22.5 | 45 |
| | | | | | | | | | | | |
| --- | --- | --- | --- | --- | --- | --- | --- | --- | --- | --- | --- |
| MM | K2 | L | L1 | L2 | P1 | P2 | P4 | P5 | P6 | R | R1 |
| NSX-100/160/250D/N/H/L | 70 | 52.5 | 105 | 140 | 81 | 86 | 111 | 83 | 88 | 14.5 | 29 |
| NSX-400/630D/N/H/L | 90 | 70 | 140 | 185 | 95.5 | 110 | 168 | 107 | 112 | 31.5 | 63 |
| | | | | | | | | | | |
| --- | --- | --- | --- | --- | --- | --- | --- | --- | --- | --- |
| MM | R2 | R4 | R5 | R6 | R7 | R12 | R13 | ï¿ T | ï¿ T4 | (Ue) |
| NSX-100/160/250D/N/H/L | 54 | 108 | 143 | 29 | 58 | 43 | 86 | 6 | 22 | ≥2 |
| NSX-400/630D/N/H/L | 71.5 | 143 | 188 | 46.5 | 93 | 63 | 126 | 6 | 32 | ≥2 |