HOME

>>

Products

>>

TDPX Moulded Case Circuit Breaker
TDPX Moulded Case Circuit Breaker
TDPX Moulded Case Circuit Breaker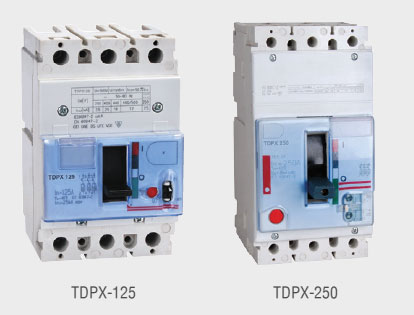 Application

TDPX moulded case circuit breaker is one of the most advanced type breakers in the world, which adopts international advanced design and manufacture technology. They are suitable for short circuit and overload protection for circuit
of AC 690V 50/60Hz, rated current from 16A to 1600A. Its rated insulation voltage is 690V. It can make and break the nonfrequent circuit in the normal conditions. It takes protect effect when mouse cage motors non-frequent start, breaking off
working and protecting overload, short circuit and lacking voltage. It complies with IEC60947-2.

Main Technical Specifications

Type
Pole
Rated current of trip (In A)

Breaking
capacity(kA)

Max.rated
voltage (V)

Thermal release
adjustable

Magnetic
release adjustable

TDPX-125

3,4P

16,25,40,63,80,100,125

25

500

0.7~1In

-
TDPX-E125

3,4P

16,25,40,63,80,100,125

16

500

0.7~1In

-
TDPX-250

3,4P

25,40,63,80,100,125,160,200,250

36

690

0.64~1In

3.5~10In

TDPX-E250

3,4P

25,40,63,80,100,125,160,200,250

36

690

0.7~1In

3.5~10In

TDPX-400

3,4P

250,320,400

36

690

0.8~1In

5~10In

TDPX-630

3,4P

160,250,320,400,630

36

690

0.8~1In

5~10In

TDPX-1600

3,4P

800,1250,1600

50

690

0.4~1In

1.5~10In